Netarhat Jharkhand: Netarhat is a hill tourist destination. It is situated at an altitude of 3622 feet above sea level. It is situated at a distance of about 150 kilometers from Ranchi. Nature has decorated it very beautifully. People come here to see the sunrise and sunset. This site can be seen attractively at a distance of about 10 km from Netarhat. Apart from this, there are also two small waterfalls Ghaghri and Lower Ghaghri Namak, which are famous places.
Netarhat, popularly known as 'Queen of Chhota Nagpur', is located in the Latehar district, 156 km west of Ranchi, the capital of Jharkhand. Netarhat, situated at an altitude of 3700 feet above sea level, receives a huge crowd of tourists during the summer season. By the way, the weather of Dhand remains here throughout the year. People also come here to see the sunrise and sunset.
The natural beauty of this place, situated in the midst of a dense forest, is a sight to behold. Tourists do not forget to visit the famous Netarhat School, Lodh Falls, Upper Ghaghri Falls, and Lower Ghaghri Falls when they come here. The second largest fall of Jharkhand is Barha Ghagh (466 feet) near Netarhat. Shooting is also done in Netarhat with the permission of the Forest Department. There are many tigers in some parts here. With the development of Netarhat, tourists and hunters are getting attracted here. Netarhat is a very important tourist destination.
Also, Read- Weather Bokaro Steel City Jharkhand, Early History, भौतिक सुविधाएँ और मौसम, सिंचाई, Forest, Flora and Fauna… Read More
Origin of Netarhat
लातेहार जिले में स्थित नेतरहाट शब्द की उत्पत्ति "प्रकृति हाट" से हुई है। यह बाद में नेतरहाट बन गया। इसका क्षेत्रफल 2489 वर्ग मीटर में फैला हुआ है। और यह पलामू संभाग में आता है। नेतरहाट का आकर्षण पूरे विश्व में है जो आज भी बेजोड़ है। पर्यटक इसकी ओर खिंचे चले आते हैं। आधुनिक दुनिया में नेतरहाट का इतिहास ब्रिटिश लोगों के आने के बाद शुरू होता है। यहां के घरों के डिजाइन पर ब्रिटिश परंपराओं का गहरा प्रभाव पड़ा है
नेतरहाट के प्रमुख पर्यटन स्थल
कोयल व्यू पॉइंट (सनराइज पॉइंट)
निचला घाघरी जलप्रपात
अपर घाघरी जलप्रपात
मैगनोलिया पॉइंट (सनसेट पॉइंट)
नतरहाट की सुहाने डागर
लोध जलप्रपात
नेतरहाट आवासीय विद्यालय
होटल "प्रभात विहार"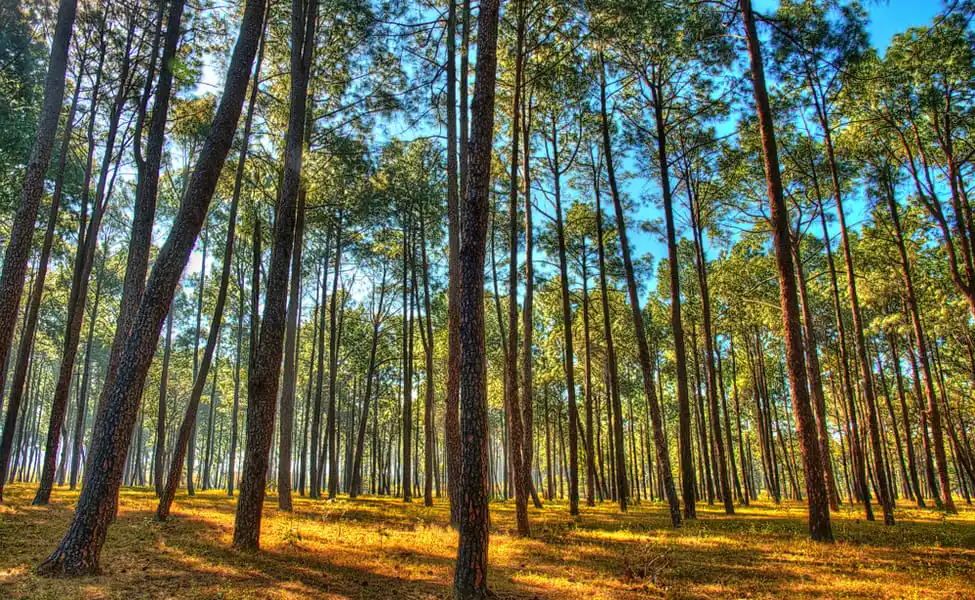 Netarhat: The Queen of Chhota Nagpur
Netarhat is the most beautiful gift of nature on the land of Jharkhand. Which is also known as the Queen of Chhotanagpur and also known as Netarhat: Hill Station of Jharkhand. The beautiful view of this hill station is the view of sunrise and sunset here.
Here the natural beauty of pine forests, Netarhat Dam, pear and fingernail plantations, a view of the Koyal river, and many waterfalls are worth seeing.
Netarhat is also known as "Mallika of Jharkhand" in the west at a distance of 157 km from the capital Ranchi. This plateau surrounded by forests is located at an altitude of 3700 feet above sea level.
Also, Read- Giridih Jharkhand, Metropolitan Region, इतिहास, भूगोल, Climate, Population, Religion, Minerals, पर्यटन… Read More
Netarhat जाने का सबसे अच्छा समय
जहाँ तक नेतरहाट जाने का सबसे अच्छा समय है, इस खूबसूरत शहर की यात्रा करने के लिए साल का कोई भी समय अच्छा है, लेकिन अगर आप विशिष्ट महीनों की तलाश कर रहे हैं जब जलवायु सबसे सुखद हो तो वसंत और गर्मी के महीने सबसे अच्छे हैं नेतरहाट जाएँ। यात्रा करना अच्छा रहेगा। महान। इस मौसम में कोई भी इस जगह को पूरी तरह से देख सकता है। फरवरी या मार्च में नेतरहाट की यात्रा की योजना बनाएं जो निस्संदेह इस जगह की यात्रा करने का सबसे अच्छा समय है क्योंकि प्रकृति उन आगंतुकों का स्वागत करने के लिए पीछे की ओर झुकती है जो इस गंतव्य की पेशकश करने वाले अद्भुत यात्रा अनुभव की प्रतीक्षा कर रहे हैं। में डूबना पसंद है।
History of Netarhat
Netarhat is a part of the Chota Nagpur Plateau and is the highest hill in the plateau. Nothing has been written about the history of Netarhat other than the fact that the place was inhabited by various tribes for a long period of time. Netarhat remained away from city life and travelers for many years after India gained independence. It is only a few years that Netarhat has started gaining recognition as a tourist destination in the state. The unexplored beauty of Netarhat hill station will definitely grab your attention at first sight and will make you want to visit this place again and again, courtesy of its rich, raw, and surreal ambiance.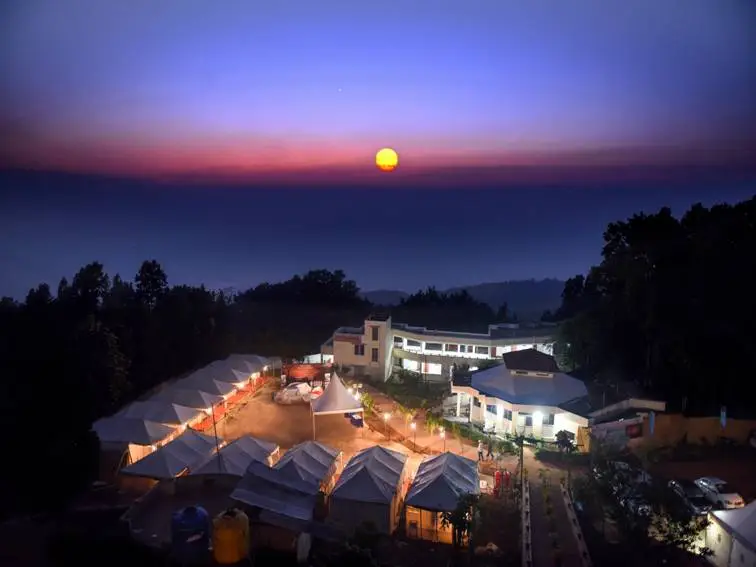 7 Places To Visit In And Around Netarhat
The beautiful sunrises and sunsets make the place come alive with its warmth and glow. It seems as if the whole place is bathed in a bright, warm, and cozy blanket. The destination has a lot to offer. Here, we bring you a well-curated list of some of the major attractions in and around Netarhat.
Also, Read- Also, Read- Dhanbad Jharkhand, Environment, Socioeconomics, Populations, Religion, Economy, Transport… Read More
Betla National Park
If you are a nature lover then you will find Betla National Park quite an amazing place to visit, especially with your kids. This national park is situated in the hilly terrain of the attractive Palamu district. Betla National Park is home to diverse species of flora and fauna, which you can spot on an adventurous safari in the park.
Upper Ghaghri Falls
These waterfalls are very pleasant to see and are located 4 km from Netarhat. The vast and cloudy sky makes the whole affair quite interesting. People from all over the country reach here to experience the gushing streams of water falling in front of them. The divine atmosphere that surrounds this place and the joy one feels seeing this magical sight cannot be expressed in words.
Magnolia Point
Magnolia Point is one of the most interesting places to visit with your loved ones. Around six in the evening, tourists can watch the sun disappear from the sky as they wrap up their day's work. Now that moment is captured in your eyes and memories forever.
Sadni Falls
Sadni Falls is quite an interesting place to visit. It is situated about 35 km from the area of ​​Netarhat. One amazing thing here is that this waterfall is in the shape of a snake which is very interesting.
Koel View Point
Koyal View Point is located at a distance of about 3 km from Netarhat. If you visit this place you will get to see the clear and mesmerizing views of the Koel river.
Netarhat Hills
Netarhat Hills is quite a wonderful place to visit with your loved ones. The dense forests surrounding the hills provide a lush green natural view of the place.
Sunrise Point
If you want to capture a time-lapse on your camera, Sunrise Point is the place to do it. Go early to catch the spectacular rise of the sun over the horizon.
Also, Read- Bhulekh Jharkhand, Highlights of Jharbhumi, How to Che…Read More.
How to reach Netarhat
Netarhat is situated in a regrettable area, situated atop a hill range. So it is not well connected to major cities and towns of Jharkhand and surrounding states. To reach this serene destination, you can make use of the nearest airport, railway station, and bus services. Here are the details on how to reach this destination using various modes of transport.
Nearest major city. Ranchi
Nearest Airport. Ranchi Airport or Birsa Munda Airport (IXR)
Distance from Ranchi 152.7 km
Nearest railway station. Ranchi Junction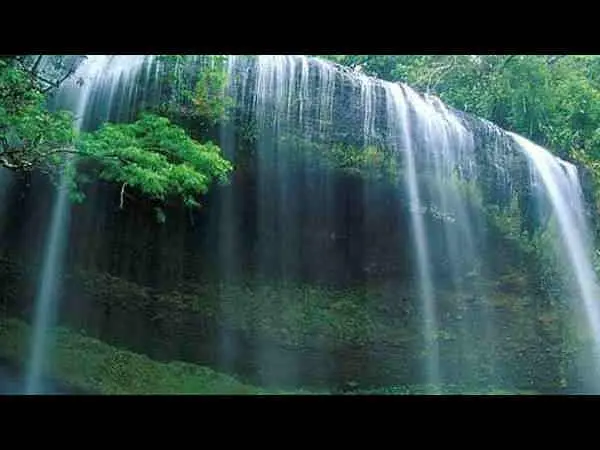 By Plane
Get down at Ranchi Airport aka Birsa Munda Airport (IXR) and from there you can take a private bus or taxi to reach Netarhat Hill Station which is around 150 km away. Flights from all parts of the country arrive at Ranchi airport so planning travel by air can be a comfortable, convenient and faster option.
Distance from Birsa Munda or Ranchi airport. 156.1 km
By Train
There is good connectivity of train routes to Ranchi from all parts of the country. From Ranchi Junction (RNC), tourists have to travel a distance of 150 km by bus or taxi to reach Netarhat. Also, trains run at a good frequency from many major stations.
Distance from Ranchi Junction. 154.2 km
By Road
Depending on your geographical location, you can also travel to Netarhat by road. So the overall road network which includes National Highways is well-maintained and easily accessible. Therefore at your convenience, you can choose to travel by state-run buses, cabs, or even your private vehicles.
FAQs on Netarhat Jharkhand
Why is Netarhat called the Queen of Chhotanagpur?
The residential school at Netarhat established in 1954 also recognized. Also, Netarhat is the highest point of the Chotanagpur Plateau, known as the Queen of Chotanagpur, in the Latehar district of Jharkhand. Especially in summer, it known for its sunrise and sunset views.
Where is Chhotanagpur in India?
Chota Nagpur Plateau in eastern India, in the states of northwestern Chhattisgarh and central Jharkhand. The plateau composes of Precambrian rocks (i.e., rocks older than about 540 million years).
What is the best time to visit Netarhat?
Netarhat best visit between the months of March and April. If you want to enjoy the bitter cold then visit the hill station between November to February. Avoid visiting during the monsoon season, which runs from July to September.
How to reach Netarhat?
The nearest airport to reach Netarhat is the Ranchi Airport aka Birsa Munda Airport (IXR). So after deboarding, you can take a private bus or taxi to reach Netarhat Hill Station which is approx. 150 km away.
Suggested Link:- My Business Mart
@Ron